Since I'm probably one of the biggest procrastinators out there... I thought it would be a good idea to get these presentations sorted... WELL before the due date. I want to test out this Twitter one to my fellow English dept and possibly my school staff as well - for anyone that is interested.
The #NZATE (New Zealand Association of Teachers of English) conference is from the 9th-11th of July 2014. My workshop is on using Twitter as a Teacher and the uses of having your personal Twittersphere and developing your PLN.
I'm not one to synthesise before I'm ready to present - so I will have a series of bits and pieces here for notes and information that I might end up using/not using or just use as a basis for what I need to say. Basically this will be my research notes post - so read on if you like :)
The workshop itself will hopefully be tweeted on the day and I will add up my slides prior/after the workshop as well.
When I originally planned on making this post as a resource for myself (and possibly all of you) this morning, I didn't factor in the sheer amount of information, infographics, posts etc that I would find. I was going to leave it as a basic crazy mess of research... even though I did all the links as I went and added in pics - I think it's quite a bit chaotic still. In fact - too chaotic for even me to sift through.
So... Below is a much more organised selection. From the stuff I will probably use in my workshop and/or want to show first as being more important (from NZ or relevant to this kaupapa) and the less relevant at the moment. However - everything I've got here is relevant to me and someone at some point - which is why it's still on the page.
Oh... and to find all this stuff I searched far and wide on Twitter - and then created a Storify:
Enjoy!
- A
Inspiring Blog Posts
This fabulous post on why you should be using Twitter if you are a teacher -
'Twitter vs Paid Professional Development'
from Craig Kemp (@mrkempnz)
One of the
best posts
I've read yet about Twitter as an Educator - by Jenn Scheffer (@jlscheffer) -
'When it Comes to Twitter, My Way is the Right Way'
This - from Philippa Nicoll Antipas (@AKeenReader) -
'A Panegyric: Twitter is not "just" for Stalking Celebrities'
where she discusses the reasons she loves Twitter and how she's gone from just following all things Shakespeare to building her PLN.
Absolutely adore this post by Steve Mouldey (@GeoMouldey) in which he discusses how to navigate an amazing Twitter chat like #edchatnz -
'Advice for Twitter Chats'
. Particularly like the differing levels of Tweachers participating in an edchat.
And a post by Steven Anderson (@Web20Classroom) -
'Why Twitter Chats Matter'
This from Sam McNeill (@samuelmcneill) -
'On Teaching the Teachers: The Role of Twitter in Professional Development'
. Awesome blog post linking a few other prolific NZ Tweachers - namely @AKeenReader @GeoMouldey @mattynicoll @mrkempnz
An infographic by @ipadwells: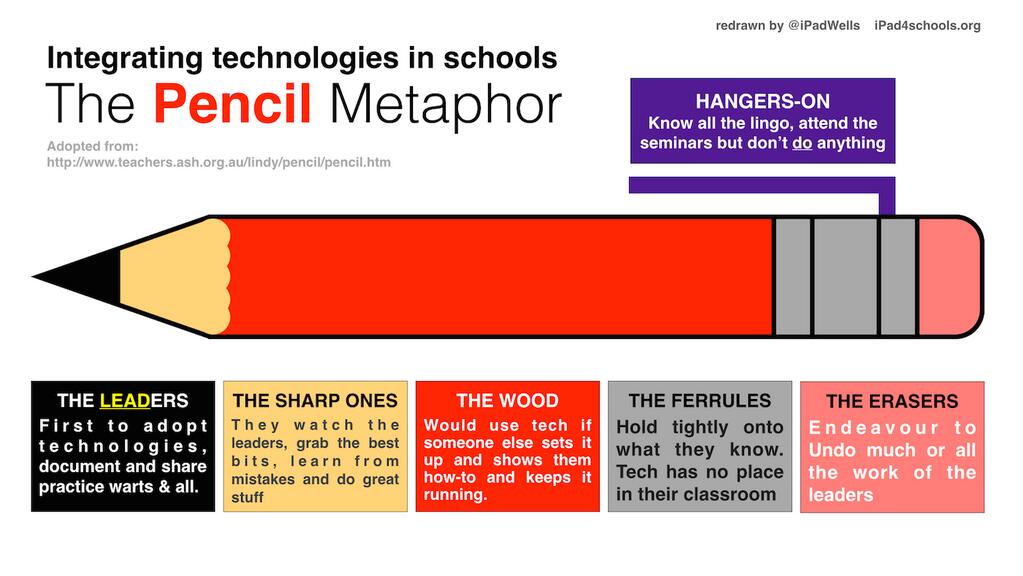 THIS. This website is simply awesome. Paul is yet another NZ Principal who believes in Twitter - and has started the 14 day challenge for Principals to use Twitter.
Check it out!
'Three Reasons why Principals should use Twitter'
- from Mark w. Guay (@markwguay)
Students need Social Media Role Models
What about the Budget? No Cost Necessary
What can you do with a Tweet, Pin and Like?
Why use Twitter?
Why Tweet and Teach? - Another amazing infographic - this time by @pw2tweets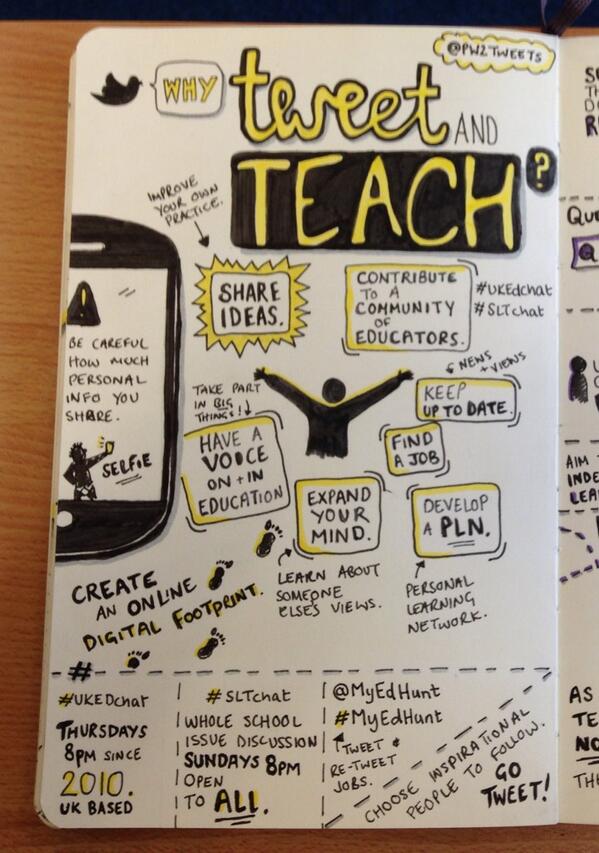 From Claire Amos (@ClaireAmosNZ) on Twitter and the Usefulness of it as a Teacher:
Claire Amos (@ClaireAmosNZ) also created this post:
'Considering ICT as a School Leader'
A useful resource by EmergingEdTech:
'100 Ways to Teach with Twitter'
written by Kelly Walsh
10 Reasons Why Teachers Use Twitter for Professional Development
from
Mike Paul
Videos about Using Twitter
A video from Alec Couros on 'Using Twitter Effectively in the Classroom':

A video by the Twitter whanau on the importance of editing your Twitter Profile:


Twitter Basics and How-to-Guides
This absolutely fantastic
guide on Twitter by Edudemic
- one of the
best guides
I've seen yet. I read this in the early days of using Twitter and it is definitely straightforward and overwhelmingly informative. A must read for sure.
Create, Don't just Consume
Connect and Network
Share your Resources
Keep At It
How to follow a Twitter Chat Infographic - Made Easy!
This refreshingly
simple guide:
Probably all you ever needed to know - but alas I found this last even though I'd seen it quite a while ago. Hands down amazing. Check it out below:
This awesome
A-Z Guide for using Twitter
. Beautiful Infographic!!
This infographic from
+iPadWells NZ
(@ipadwells)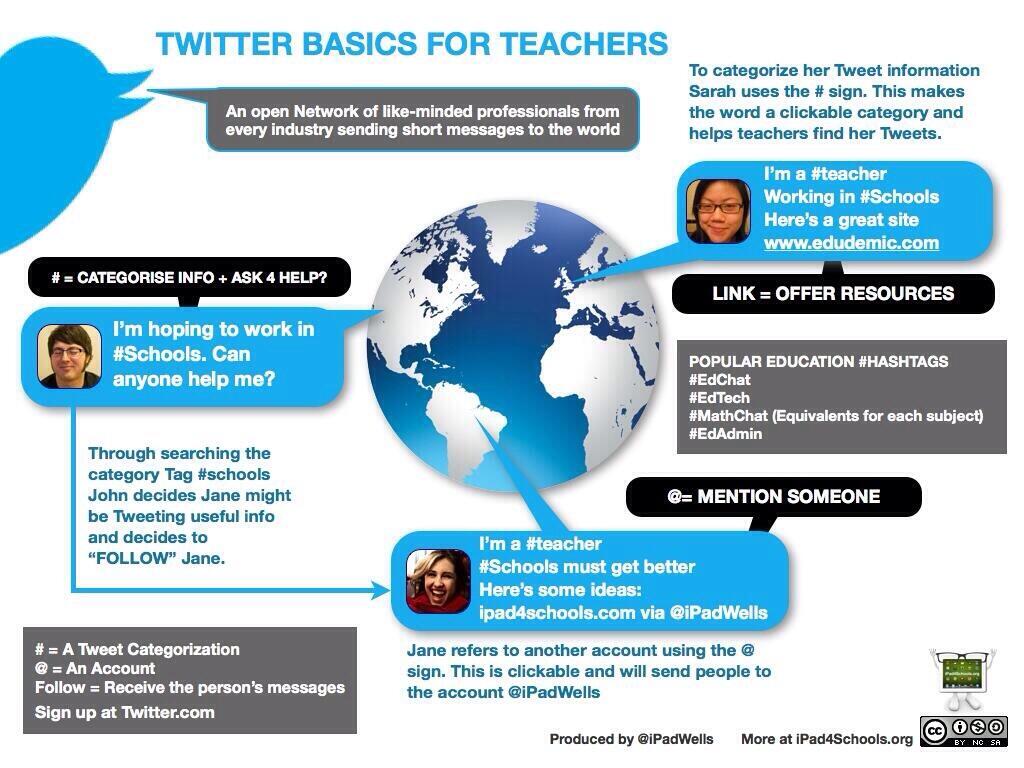 Alec Couros also created (with his Twitter PLN) this amazing Twitter Guide as Teachers -
The Updated Twitteraholics Guide to Tweets, Hashtags and all things Twitter
Becoming Connected through your PLN
This man - George Couros (@gcouros) - says exactly what I've been getting frustrated with lately - that teachers have no time for more PD that there isn't time to connect with other teachers. I agree. It needs to become a priority. Read up -
'This is not optional anymore'
. Awesome post.
Think you're a
Connected Educator
? Definitely made me laugh a little! Can see myself in those bolded statements for sure.
This
awesome spreadsheet
full of the HUGE list of different 'edchats' going on in the world via Twitter throughout the week. You just need to master the different timezone thing... which I'm still figuring out! Our #edchatnz is listed there :D #happyface
Who should I 'Follow'?
An entire list of
NZ Ed Twit's
to follow -
Check it out!
My personal favourites:
Relevant Posts for Further Reading
An interesting read on the NZ Herald by Greg Dixon -
'Gen Z: Child of our times'
Another infographic about creativity made by @Georgia_May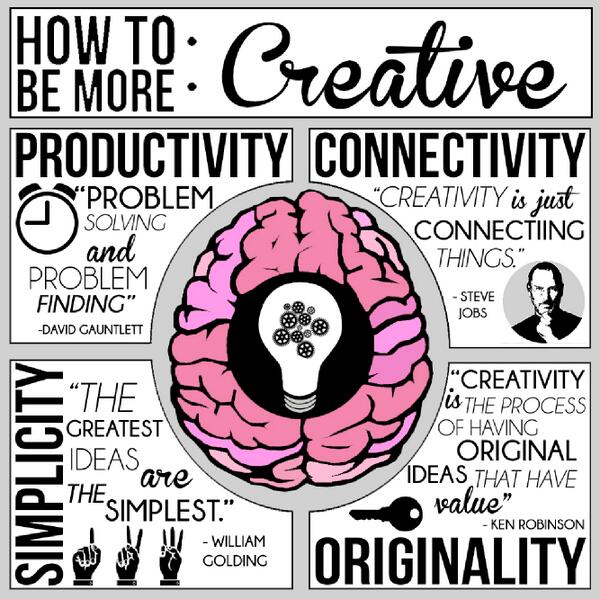 Digital Skills every 21st Teacher Should Have
- by @medkh9. Heaps of these I'm still trying to figure out - so much to learn :)
Here are a few posts by Karen Melhuish Spencer (@virtuallykaren):
A Storify collation of a Twitter basics chat -
From #nt2t
The Really Cool Thing About Using Twitter
This infographic from ....?
And that is all from me on this resource hunt!
If you liked any of these infographics and links, please site them with the original creators - I have tried to do so where there were names available. Hope I haven't missed any out!